Hallelujah! Guess what's GOOD for you!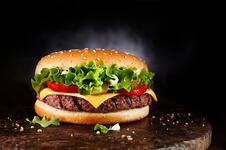 Who wants a cheeseburger? A new study from McMaster University in Hamilton, Ontario, finds that red meat and cheese should be considered health foods, as eating both increases a person's longevity. Researchers found that subjects who derived the biggest longevity benefits from cheese and red meat consumed three portions of dairy and 120 grams of unprocessed red meat per day, which led to a 25 decrease in their chances of early death and a 22 percent decrease in their rates of fatal heart attacks. "It's protective up to the serving sizes that we've identified. We are saying three dairy and we are saying around one portion of red meat [a day], or white meat," explains Andrew Mente, a professor of nutrition and epidemiology at McMaster. "Relative to carbs, I would say that saturated fat is beneficial--it's pretty clear from this data." Meanwhile, whole milk still seems to increase heart disease, but other dairy products--especially cheese and yogurt--were found to protect against mortality.

Steve & Gina's Page
Want to know more about Steve & Gina's Blog? Get their official bio, social pages & articles on KAT 103.7FM!