Want to know how you've made a friend for life?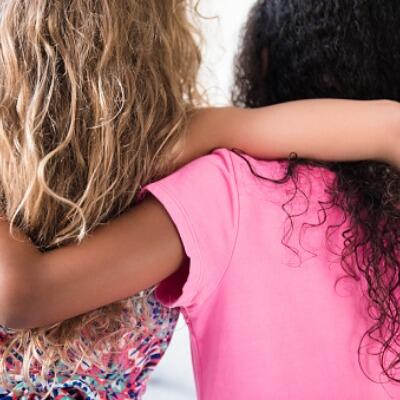 (Popsugar.com)
1 They Always Make Time For You, No Matter How Busy
We get it: everyone's busy. Between work, families, and other relationships, it's amazing that you find time to shower most days, but a true friend will always find time to spend with you. Whether it's a week-long vacation together or just a quick phone call, you will always fit in to a true friend's life because that friend has made a space for you.
2 They're Always Completely Honest
An acquaintance may politely ignore the spinach in your teeth, but a real friend wouldn't miss the opportunity to save you from potential humiliation (even if they embarrass you a bit in the process). From bad haircuts to poor behavior, you can rely on a true friend to tell you exactly what they think rather than holding their tongue.
3 They'll Push You Out of Your Comfort Zone
While a true friend knows exactly what makes you feel uncomfortable, they won't always allow you to avoid the things that scare you. A friend for life will push you to be better, stronger, and more confident because they want to see you challenge yourself rather than feel safe
4 They Always Know When You're Upset
A friend for life will be able to read you like a book, so it's no use pretending that everything is OK when it's not. You never have to pretend with a true friend anyway — they're always happy to listen to you dish about your problems.
5 You Can Travel Together
Traveling is a true test in any relationship, but if you can deal with uncomfortable shoes, missed flights, and bad sunburns with a friend, then you can do anything together. A trip away from home can bring out the best and the worst in people, and your real friend will be able to handle everything you throw at them.
6 Silence Is Never Awkward
While you may feel the need to fill the silence that settles between you and an acquaintance when everyone else leaves the room, true friends could drive around for hours lost in their own thoughts and not feel a bit of discomfort. Talking isn't always necessary when you know the silence isn't caused by a lack of things to say.
7 They're Always Supportive
Nervous about a first date? They'll be your personal hype (wo)man. Ending a relationship? They'll eat ice cream and watch movies with you until you're feeling like yourself again. Even if they don't always agree with your decisions, a friend for life will support you every step of the way once you've made up your mind.
8 You Can Talk to Them About Anything
No matter how intimate or uncomfortable the subject, a great friend will let you open up to them about anything without judgment. Rather than walking on eggshells when there's a problem in your life or an issue in your relationship with each other, your true friend is not only receptive and respectful, they'll assure you that whatever you have to say is safe with them.
9 They're Always There For You When You Need Them
While a great friend will always make time for you, they'll also willingly drop everything when a crisis strikes, no matter how trivial that crisis may seem to anyone else. You can list them as your emergency contact because you know that — no matter where they are or what they're doing — they'll get to where you need them to be.
10 You Always Have Fun Together, No Matter the Situation
It's doesn't matter if it's a trip to the beach or the grocery store — when you're with a true friend, everything feels fun. Real friends don't need outside amusement to enjoy themselves, because simply being together leads to hilarious situations.
Link:https://www.popsugar.com/love/Signs-You-Have-Best-Friend

Steve & Gina's Page
Want to know more about Steve & Gina's Blog? Get their official bio, social pages & articles on KAT 103.7FM!